Upskirt Times – In the subway
For this week's nice and fresh upskirt times update we went back to the subway as that's the spot where we always managed to get some sweet views of some nice and round asses every time. And in this fresh scene we have a sexy mature with long hair and shades as she's mid transit and she gets to give the camera a nice and hot sneak peek of her sexy and lovely ass today without her knowing it. She was roaming around the station waiting for her next train, and you can bet that that was the perfect time for striking to get a nice and good long view of her sexy ass and legs today. So let's watch her superb scene today.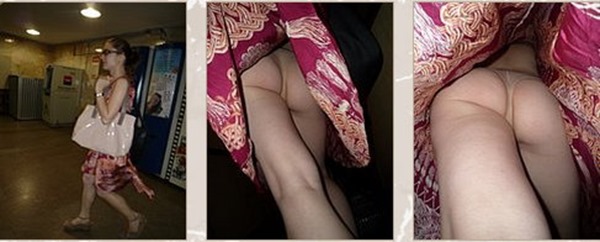 As she bent over a counter to pick something up, the camera did it's work as it caught some very sexy and hot glimpses of her round and sexy butt, and at firs even we thought, that this lady was super naughty, and she didn't wear anything underneath. But the thing is she just wore a pair of skin toned panties. Clever lady! Maybe she was expecting for someone to get some shots of her fine ass anyway today? Well we may never get to know the truth, but what is certain is that you can enjoy a super sexy and hot scene with her for this afternoon everyone. Do come back next week for more nice galleries as always. Until next time have fun and enjoy and don't forget to visit wankitnow blog if you wanna see other hot babes exposing their perfectly shaped bodies!